Kent Interdisciplinary Research Centre in Cyber Security (KirCCS)
News: An A6 brochure of KirCCS is now ready for public view! We plan to update this on a yearly basis.
News: Call for PhD Applications in Cyber Security (3 studentships)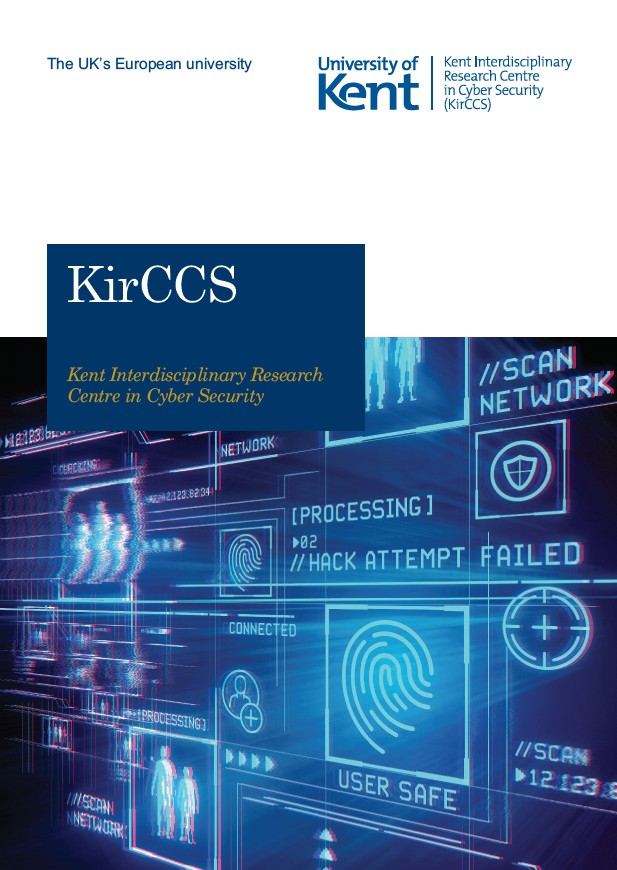 The Kent Interdisciplinary Research Centre in Cyber Security (KirCCS) at the University of Kent harnesses expertise across the University to address current and potential cyber security challenges. It represents the University of Kent as a UK government recognised ACE-CSR (Academic Centre of Excellence in Cyber Security Research), one of only 17 such centres in the whole UK. The current recognition starts from August 2018 and will last until June 2022.
Its strategic objective is to promote wide-ranging multidisciplinary research, and to teach and develop skills in cyber security to its students and the wider community, through degree programmes, workshops, visits, lectures and training.
Included in its remit is to work with external organisations to promote cyber security.
If you are interested in collaborating with us, please check the Contact Us page for people where you can find key contacts of the Centre.
We have an external-facing mailing list to inform non-Kent people and organisations who are interested in hearing about news, events and other public announcements from the Centre. If you are interested in subscribing to it, send an email to cyber-external-request@kent.ac.uk with a brief introduction to yourself (and your employer if that is relevant).
If you are a University of Kent researcher or student who are interested in being interested in being informed about more activities of the Centre, please contact us so that we can add you to an internal-facing mailing list.
RT @jasonnurse: Woohoo! We're at @NDSSSymposium this week & presenting "Cybercrime Investigators are Users Too! Understanding the Socio-Tec…
Posted about 6 hours ago
RT @NCSC: Our #GirlsComp19 Grand Final will take place in the country that gave us telephones, logarithms and penicillin. Scotland: an exem…
Posted about 14 hours ago
How to use a two-factor security key https://t.co/sE2GxYYDq2 #2FA #infosec
Posted about 14 hours ago
back to top